BLACK AND SILVER MINIATURE SCHNAUZERS.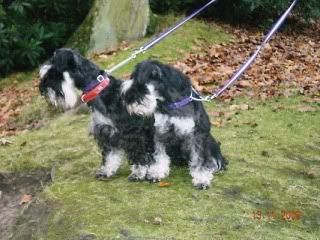 Kristec Money Penny / Penny.

Penny or nickname Lady Penelope. Dam is Kristec Snow Angel / Minty's and sire is INT CH Hassanhills Money Money Money and is our home bred black and silver show girl. See her mum Minty below and her dad on the stud dog page. She has a wonderful loving and very gentle personality, she is also very clever. See her brothers and sister in Minty / black and silver 2 photo album. Penny has done very well in the show ring and been placed twice at Crufts, see her other results on the results page. I am very proud to have bred Penny, I believe the best black and silver I have bred so far.
Penny has been place 11 times out of 12 shows!!!
Penny was 3rd in Post Graduate Bitch at Crufts 2010 Judge
                                         Mrs J Harrison-Smith.
1st in Post Graduate Bitch at Scottish kennel Club 2009 - Judge
                                         Mr F A McDermott.
Penny was 5th in Special Puppy Bitch at Crufts 2009 Judge
                                         Mrs S. M. Martin.
BVA Clear Eye Test - 27th February 2011.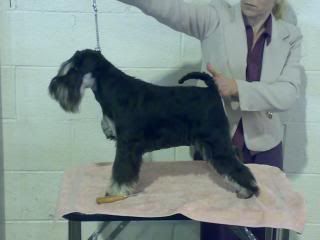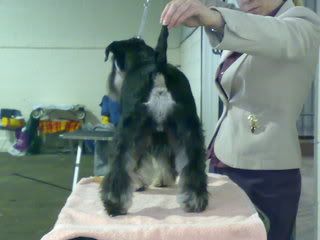 Nenevale Light A Rainbow For Kristec / Alice.
Alice - Born 10th April 2009.
Her dam is Nenevale Angel Eyes and sired by FCI Multi Champion Nenevale Fan Mail, see photo of her dad on the Stud dog page.
Alice has a great out going personality, with a very correct black dence harsh wiry coat.
BVA Clear Eye Test - 27th February 2011.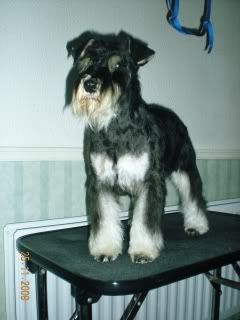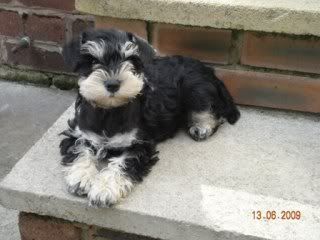 Alice at 6 Months.                 Alice at 8 Weeks.
Kristec Snow Angel / Minty.

Minty or nickname The Smint, Born 12th May 2006  .
My first home bred black and Silver, her dam is Nenevale Snow Joke / Mandy and sire is Multi CH. Twinkling Star VD Spikke at Nenevale. See her mum Mandy below and her dad Tommy on the stud dog page. Minty has been shown has many open show wins and Crufts qualified again for 2008, however she will be missing from the ring due to maternal duties. Minty has produced for us her first litter sired by Multi Champion Hassanhill's Money Money Money producing the gorgeous Penny / Kristec Money Penny.  
Nenevale Snow Joke / Mandy.
Mandy is my foundation bitch is black and silver born 15th July 2004.
I waited 2 years for her from the famous Nenevale Kennels, where they specialise in this colour. 
Because Nenevale DO NOT MIX THE COLOURS their intense black colour lasts and which can then be passed on to her progeny.
Thank you Jenny Harrison-Smith for letting me have her. Mandy competed and did well at open shows, although never liked showing. Mandy is now a mum and grandmother. Having had two beautiful litters Mandy has now retired to a pet home and lives with my very good friend Carole and her three girls and often goes camping at the weekend, weather permitting!