Kristec Unique Qualities
Maggie May born 9th September 2012
Kristec Never Say Never
Roxy or to her friends The Rock. Born 1st August 2009. Daughter to Carly below and Sired by Champion Risepark Mister Right, see him on the stud dog page. Roxy has a great out going personality, never stops wagging her tail. Passed on from Carly, and a very harsh and correct banded coat.
Mum Carly below and Daughter above.
Roxy qualified for Crufts 2011 and 2012.
Roxy and her brother Victor / Kristec Note To Self qualified for Crufts 2012.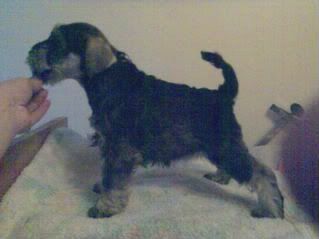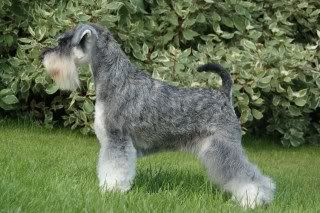 Roxy 8 Weeks Old. Roxy 1year Old.

Naughty By Nature at Kristec
Carly, she was a new line for Kristec. Her sire is Multi Champion Hideki Who's That Guy with Risepark and her dam is Jansad As You Like It, so she has some good breeding behind her. As you can see, she is our first mini with a full tail, which she carries in the correct upright position called for in the breed standard.
We are very proud of our young lady, Carly has won reserve BEST PUPPY IN SHOW at Whitchurch with Andrew Brace on 6/1/08. Carly is the proud mum of both Roxy from her first litter and Una from her second litter both seen above. Carly having give Kristec two beautiful girls has retired.
----------------------------------------------------------- 
Kristec Right To Reply.
Kelly was born 1st May 2011.
The first puppy from our Spanish import Ollie / FCI Multi Champion Schnauzerdreams One Day I'll Fly Away and our own Kristec Just Pimienta / Sumo.
Kristec Just Pimienta
Sumo, born 22nd January 2008. Sumo was originally was called Pepsi, but very soon Pepsi was changed to Sumo. Close friends and people who have met her as Sumo a nickname she was given, suits her well. She has a very outgoing and cuddly personality.Just as her mum ( Megan) and grandmother (Molly) has a correct banded coat. Sumo was 5th at her first Championship show.Sumo has had two litters, the first all males, but in  her 2nd litter in 2011 had a lovely daughter called Kelly / Kristec Right To Reply(above) and has now retired. 
Kristec Bebington Beauty.
Megan born 15th November 2005. Qualified for Crufts 2007, has produced two beautiful litters both sired by the excellent Moody aka CH/AM CH Awesome's In The Mood with Risepark (imp USA) . Megan is mum to Sumo (see her above). Megan having done well in the show ring and having produced two wonderful litters has retired to a pet home, and is living with her daughter Ruby and Allison and Glynn and spends weekend in Wales at a caravan and running on the beach. Megan is a proud mum to Sumo, and now a Grandmother. Lots of pictures of Megan and Ruby on the gallery page.
Miss Devious At Kristec.
Otherwise known as Molly or Uffy to her friends, born 9th August 2001.
Molly is our foundation bitch for the pepper and salts colour, and has competed at Crufts three times in 2005 and 2006.
After a three year break Molly was back in the show ring in 2009 and qualified for Crufts 2010, where she won 1st in Veteran Bitch.
Molly is a proud mum to Megan, Grandmother to Sumo and now a Great Grandmother to Kelly.
Molly is the top mini in the house and loves to show.